Rustic
Boho
Unique
"We had such a wonderful and happy day, made perfect by your lovely staff and your amazing venue. You have got a wonderful business."
A tipi wedding is a beautiful way to make your special celebration your own and create a shared family experience everyone will talk about for years to come.
With our package approach, it's just a case of saying 'yes' (one more time) and our professional team will take full care of your day.
Rustic, relaxed and different, you already know in your heart if a rural Scarborough tipi wedding is right for you .. and if it feels good, we say do it!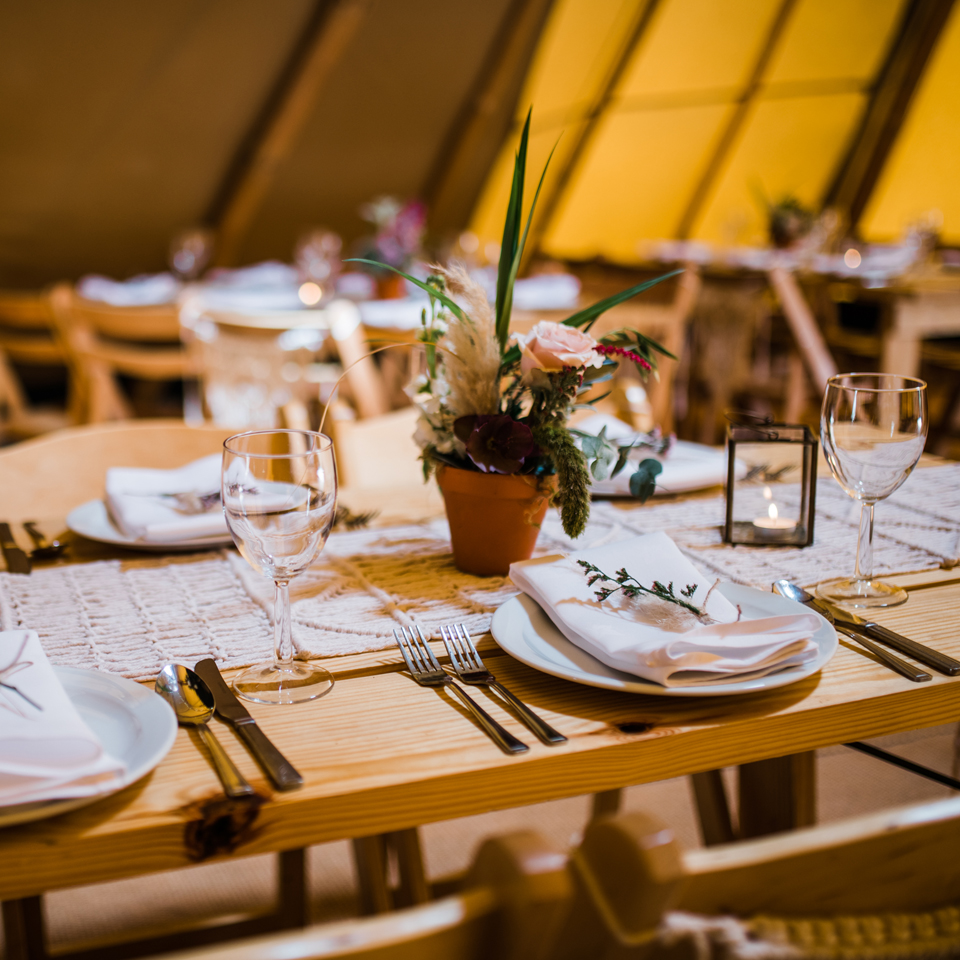 A Day To Remember Forever
Our attention to detail and our unobtrusive, informal style and service will make your day with us memorable for all the right reasons. We only hold a limited number of events each year so every wedding is special to us: we want to help you plan and execute your dream day, so rest assured our team will be checking all the little details so that your celebration is everything you planned for, leaving you both to relax and enjoy this special day with your guests.
Join our mailing list for updates on availability and open days
Lucy & Sam
Feb 2019: Just a quick note to say thank you so much for not only your help on our wedding day but all the meetings and emails before. Please thank all the staff who helped, I know we had a lot to drink early on, so thank you for putting up with us. The venue is truly stunning, I wish I could have another party in the tipis! We already have and will continue to recommend you. Thank you again.
Amy & Pete
June 2017: Thank you so much for ensuring our wedding ran so smoothly on Saturday. We had a fantastic time and everyone commented how much fun they had! Thank you for all your hard work Beth. You have always been very approachable and it was a pleasure to organise it all with you. From discussing ideas to finalising details.
It was fantastic to have the ceremony in the field. The weather was on our side and the flags looked brilliant! The food was great! Lots of people said the 'Rustic Italian' was delicious, and it was presented beautifully. it was very sweet that canapés were saved for me and Pete.
Julia
August 2018: We had such a wonderful and happy day last Saturday that was made perfect by your lovely staff, your amazing venue, and of course the unbelievable weather! You have got a wonderful business, I'm sure it will continue to give lots of couples many years of happy memories.
Thanks once again for everything
Ross & Emily
July 2018: Wow what a day! Our Wedding day, was beyond what we imagined. That is largely down to you and the team.
You have all been great from day one, when we met Clair 2 years ago we trusted in her, her new business and the incredible venue, then Aimee and yourself have been so on it and made everything that much easier for us.
While the venue was a surprise to all (we kept it a secret) they loved it! A wedding like no other!
You helped us create a day we will never forget and an experience that our guest will not either (our phones have not stopped buzzing)!
But once again thank you thank you and for a creating a special day for us and putting up with an awful lot of crazy southerners!
Lauren & Jamie
July 2018: Thank you so much for being the back drop to our special day. It's fair to say that it was a bloody party! One that without you wouldn't have been possible.